When Should I Get an Oil Change?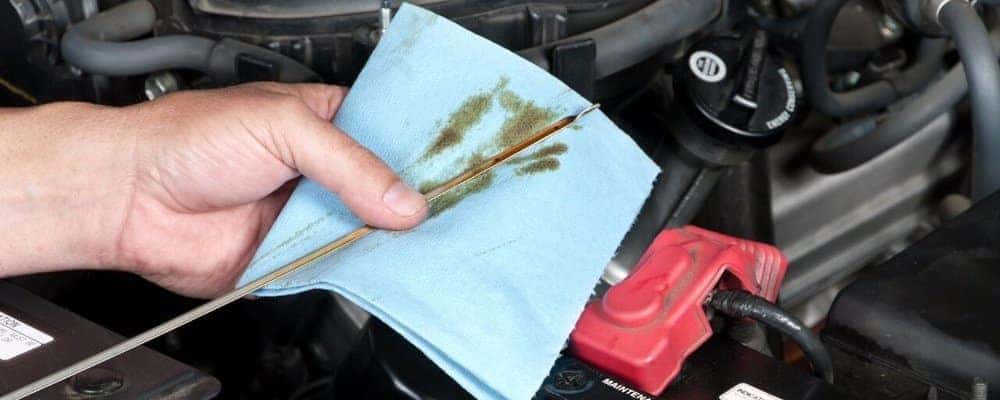 It may seem as though every Detroit area service center has their own answer to the question of how often you should get an oil change. Even worse, locations that make all of their profits from this common procedure might feed you a lie about the importance of the 3,000-mile oil change!
This might have been true 50 years ago, but today's vehicles are designed to travel much longer while consuming less. 7,500 to 10,000 miles between oil changes is a much more accurate rough estimate. For the most precise answer to the question, "When should I get an oil change?" you'll want to consult your vehicle's owner's manual.
Finding Your Recommended Oil Change Frequency
Although the broad guideline listed above will be consistent with most recommended oil change intervals, it's important to consider your driving conditions when you're determining the right oil change frequency for your vehicle. If any of the following circumstances apply to you, check with Jeffrey Nissan near St. Clair Shores to find out when to make the change:
Frequent short trips
Off-roading
Commercial use
Racing
Towing a trailer
Hauling heavy loads
How Often Should I Check My Oil Level?
Although you can easily fill up your car on your own, you may need to schedule an early oil change if your levels are lower than they should be. If you want to prevent long-term damage to your vehicle, it's a good idea to check your oil levels at least once a month. If the level is too low, discolored, or if you notice metal particles in the fluid, it's a good idea to schedule a service appointment as soon as you can.
Oil Change Tips from Jeffrey Nissan
Car owners should also consider these helpful tips before planning a visit to their local Roseville service center:
Even if you haven't exceeded the 10,000-mile marker, it's a good idea to replace your oil at least twice a year. The substance breaks down naturally, even if it's just sitting in your engine.
You should ensure that your oil filter is replaced whenever your engine oil gets changed. If you're making the change yourself, you can always get the parts you need at Jeffrey Nissan.
If you're considering conventional vs. synthetic oil, you'll want to check your owner's manual. Some vehicles require a certain type of oil, while others simply make a recommendation.
Turn to Jeffrey Nissan for Oil Changes
Take advantage of our service specials and Grosse Pointe oil change coupons to get the best possible deal on this necessary maintenance. Contact us today to schedule your visit, learn how long car brakes last, or with questions.
More Service Tips From Jeffrey Nissan
Programming the Nissan Intelligent Key is simple. Once you do, you can lock and unlock the doors, open and close the trunk, and remote start your Nissan to warm it up in the colder months for your commutes around Grosse Pointe and St. Clair Shores. When you're ready to get started, trust the service team at Jeffrey Nissan to…

There's nothing worse than getting ready to go out for a movie or run an errand and you can't get into, or even start, your Nissan. If this is the case, you could be looking at a dead Nissan key fob battery. Can you start a Nissan with a dead key fob? You can! Let…

It may seem as though every Detroit area service center has their own answer to the question of how often you should get an oil change. Even worse, locations that make all of their profits from this common procedure might feed you a lie about the importance of the 3,000-mile oil change! This might have…