Nissan Safety Shield Technology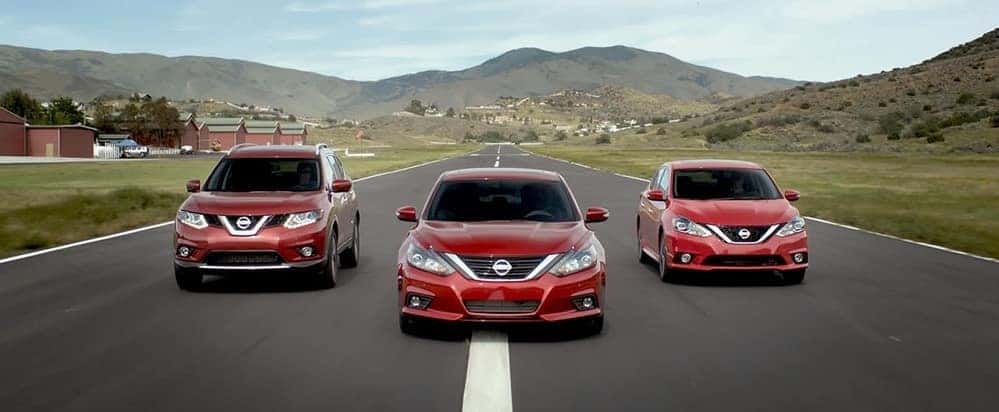 Nissan Safety Shield technology uses state-of-the-art engineering to create your safest ride yet. This comprehensive system works on three different levels to monitor your surroundings, respond to immediate dangers, and protect you and your passengers from harm. The result is one of the most advanced systems on the road today. When you think of safe family cars, think of Nissan.
Monitor
Nissan's Safety Shield technology starts by scanning the roads with a built-in monitoring system. This system checks not just the conditions of the vehicles and the road, but some models even monitor your driving habits to help prevent fatigued driving. Here are a few examples:
Predictive Forward Collision Warning determines the distance between your vehicle and others in your lane with radar technology. If a vehicle ahead slams on the brakes, your car automatically sounds an alert and stops if necessary.
The Around View Monitor provides an instant 360-degree view of the vehicle using four different cameras, so you can clearly view your surroundings while parking.
Driver Attention Alert sounds an audible alert if your steering patterns appear out of character, urging you to take a pit stop to avoid fatigue.
The Tire Pressure Monitoring System ensures that your tires are in optimal condition, signalling to drivers if additional inflation is needed.
Respond
If you find yourself on a slippery patch of ice or a slick curve in the road, your Nissan will take control to keep you safe. Systems like Vehicle Dynamic Control and Traction Control System enable you to steer through less-than-ideal conditions, while the Anti-Lock Braking System enhances handling even further.
Protect
In case of an emergency, Nissan Safety Shield technology protects you and your passengers from harm with a series of expertly designed features. The Nissan Advanced Air Bag System uses dual-stage air bags from all angles, while Active Head Restraints help reduce whiplash. Plus, Nissan includes family-friendly features like the LATCH system and SNUG Kids for car seats.
Learn More at Jeffrey Nissan
Take a look at our new inventory to see all the vehicles available with Nissan Safety Shield technology. Still have questions? Contact us for all the details!